Dashing his way through pop, folk and indie-rock idioms with a trademark mix of joy and pain, Dan Bryk matches up five seasonal originals with a pair of well-chosen covers (Bill Pritchard's regretful "Cozy Evenings" and a completely earnest take on Dolly Parton's "Hard Candy Christmas" from The Best Little Whorehouse In Texas(!)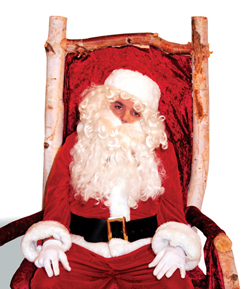 Bryk's much-acclaimed writing and production talents are on shimmering display here, in terms both conceptual and emotional–wry rocker "(Why Won't You) Love Me For Christmas", signature heartrending ballad "Simple Stupid Song", Canadien-errant road trip tale "Great Adventure", melodramatic suicide note ("Wintersad", co-written and backed up by Chapel Hill labelmates Down By Avalon) and closing tour-de-folk "Christmas Ballad". This idiosyncratic, not-quite-celebratory take on The Holiday Album should sit nicely between Hawksley Workman's Almost A Full Moon and Low's Christmas EP.
Somewhere in between the sacred and the profane, Dan Bryk's Christmas Record will be a revelation for hardcore fans and a compulsive nose tweak for the as-yet unconverted.
"Nicely twisted confessional pop… Rufus Wainwright meets Ben Folds, drunk, at a Christmas party." -The Wilmington Star
"You know of course that the guy who wrote "…and Now Our Love is Dead" didn't just release a chirpy little Christmas album full of family-friendly good cheer. Nor is this a sarcastic stab in the heart of the holiday season that you might expect from a smug indie rocker. Instead this is an entertaining, sensitive yet comedic, singer-singwriter album similar to his 2000 release Lovers Leap, but instead the songs are about Christmas, a tete-a-tete with Jesus Christ, and a long drive across the United States… it will keep you alive with indie rock Christmas tales year round." -MOTE
"These are songs that use Christmas as a backdrop to make some broader point, usually a very melancholy one about loneliness and missed opportunities. Because of that they are timeless and not just something to be consumed and used up over the holidays." -Songs:Illinois