COREY LANDIS fittingly shares a birthday with Charles Bukowski and a deathday with Elvis Presley.
On August 16th, 1978, beneath the shadows of Rubbermaid world headquarters in the small town of Wooster, Ohio, Landis came into being. He began taking piano lessons in the second trimester and was already writing his first songs by the time he was a fully formed fetus. So by the time of his birth, he was already booked in several local cabarets and coffee shops, which further complicated matters, as he was several weeks late. His childhood was happy, but to listen to his songs, his adolescence must have been miserable, although he can't really remember anything from the time. "It's slowly coming back through a regimen of hypnosis and herbal colonics," Landis recently said, "which is great, because I usually don't have anything to write about with what's going on now in my life."
Whether or not he chooses to admit it, Landis typifies the recent resurgence of gifted twenty-somethings that evoke the "golden" singer-songwriter age of the '70s. The ubiquitous melodies of Elton, Joel, Springsteen, Cohen, Waits, Zevon and Newman hover over Landis' shoulder like older siblings–most tellingly in the dystopian relationship odes of the last three Angelenos.
Destined to relocate to Los Angeles in 2000, Landis immediately tested the waters with the online album Mediocre Saviour, an inspired batch of wry, wordy pop songs that despite their underwhelming production value instantly attracted a devoted, albeit tiny international following and ambivalently encouraging reviews.
Landis began appearing around LA as a solo performer, accompanying himself at the piano at venues such as The Derby, The Mint, Tangier, and Room 5. Landis was soon asked to contribute six original songs to the soundtrack for the indie film Unreel: A True Hollywood Story, written and produced by playwright and Lifetime producer Michele Palermo. He also supplied the closing track for Peace, a short film starring That '70s Show's Kurtwood Smith. (Rocksnob warning: Like everyone else in LA, Corey Landis is a card-carrying actor, including a recurring role on the FOX sitcom That '70s Show as the young Red Forman.)
Meanwhile, Landis proselytizer Dan Bryk was quietly enabling the release of records by idiosyncratic Toronto singer-songwriters like Chris Warren, The Bicycles and Chris Staig as well as recent signer-on, Lee Feldman. Shocked to discover Landis about to internet-DIY his follow-up, Bryk intervened and Landis' first official album Feast of Scraps was co-released by the Urban Myth Recording Collective in 2003.
A singular paean to the emotional mean streets of El Lay, Feast sought to blow some dust and smoke in the right places, in the right amount. Landis' singular mix of melodramatic melodies, razorblade-gargling singing and homemade wall-of-Spector sounded to some "like the fictional soundtrack to a fictional paring of Stanley Kubrick and Sergio Leone… a spaghetti-O western." (Nimbus) Critical consensus was that Landis was a songwriting force to be reckoned with:
"Great songwriters are few and far between; like troubadours of old, his dark, ironic lyrics work best against a minimal background of the lone piano or a single acoustic guitar. This is an artist who can dominate any small venue and who should be recording gems like this in a much better studio than his living room." (Skratch)
"**** 1/2 (out of five stars) Very real, somber, and humbling.  If Bukowski could sing, he'd sound like this. A poet blessed with musical talent.  The music is great. He sounds great. I'm afraid of him." (South of Mainstream)
"Darkly moody songs in a drunken manner. Excellent lyrics, interesting musicality, depth and soul… gritty and real. Great lyrics. I will buy him a drink." (Hybrid Magazine)
Then came 14 Old Messages, Landis' ambitious second platter. Landis sings his black heart out over all sorts of memories, both real and imagined, in musical settings both familiar and disorienting. Landis' self-mocking, mock-solipsistic lyrics and nostalgia-tinged new melodist pop evokes both the AM pop pathos of Billy Joel AND sad-sack contemporaries like Oberst, Barzelay and Wainwright.
Like Feast of Scraps, 14 Old Messages was obsessively overdubbed by Landis in his home studio, with Landis singing and playing each and every note (including trumpet, guitar, and piano.)
"This kid could become the next great singer/songwriter of our generation." (Smother)
"Piano-driven Alt-Folk Pop sincerity can't get much better than this. Listen again and again. He'll break your heart if you let him." (TheFeveredBrainOfRadioMike.com)
Shortly thereafter, "New Year" from Feast of Scraps was voted a finalist in the 2005 International Songwriting Competition, making it in the top .5% of around 15,000 entrties, and "Shine" from 14 Old Messages also made the semi-finals.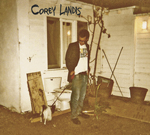 2007 marks the release of Landis' most extraordinary and fully-realized work-to-date: Corey Landis, a self-titled work whose sound hearkens back to the big bang of his influences: the singer-songwriter era of the '70s. Randy Newman's Sail Away, Tom Waits' Small Change, Elton John's Elton John, as well as the works of lesser-known artists Biff Rose, David Forman, and David Ackles all provided a reference point for the tone of the new record.
Landis wisely enlisted mixer Greg Hayes (Warren Zevon, Tom Petty, Bruce Springsteen) to give a polish to the sound his previous records have been missing (the album was mixed at historic and now-defunct Signet Sound) as well as ambitious film composer Joey Newman–youngest of the great Newman film-scoring dynasty of Alfred, Lionel, Randy and Thomas–to create string and woodwind arrangements for four of the songs on the album.
Corey Landis, self-financed and recorded primarily at home once again, places Landis' trademark piano-playing in the forefront of simple "unplugged" arrangements, covering darkly comic subject matter as varied as middle-age frottage, high school love triangles, mortality, circus recruitment, and heart-removal with the wit and sincerity one has come to expect from a Corey Landis song.
We suspect that this is the one that gets people to sit up and take note of this gifted and promising singer-songwriter.