COREY LANDIS fittingly shares a birthday with Charles Bukowski and a deathday with Elvis Presley. On August 16th, 1978, beneath the shadows of Rubbermaid world headquarters in the small town of Wooster, Ohio, Landis came into being. He began taking piano lessons in the second trimester and was already writing his first songs by the time he was a fully formed fetus. So by the time of his birth, he was already booked in several local cabarets and coffee shops, which further complicated matters, as he was several weeks late. His childhood was happy, but to listen to his songs, his adolescence must have been miserable, although he can't really remember anything from the time. "It's slowly coming back through a regimen of hypnosis and herbal colonics," Landis recently said, "which is great, because I usually don't have anything to write about with what's going on now in my life."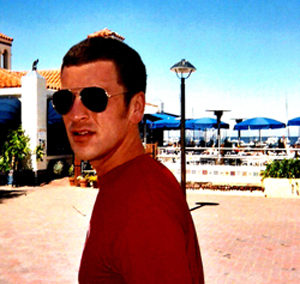 Whether or not he chooses to admit it, Landis typifies the recent resurgence of gifted twenty-somethings that evoke the "golden" singer-songwriter age of the '70s. The ubiquitous melodies of Elton, Joel, Springsteen, Cohen, Waits, Zevon and Newman hover over Landis' shoulder like older siblings–most tellingly in the dystopian relationship odes of the last three Angelenos.
Destined to relocate to Los Angeles in 2000, Landis immediately tested the waters with the online album Mediocre Saviour, an inspired batch of wry, wordy pop songs that despite their underwhelming production value instantly attracted a devoted, albeit tiny international following and ambivalently encouraging reviews. (Amongst the cult was freshly-dropped singersongwriter Dan Bryk, who was in the process of setting up a collective record label for wry, wordy pop songwriters… but we'll get to that later.)
Landis began appearing around LA as a solo performer, accompanying himself on piano at venues such as The Derby, Highland Grounds, Taix Lounge, The Crooked Bar, Room 5, and as the opening act for the well-reviewed sketch comedy troupe Piece of Meat Theater. Landis was soon asked to contribute six original songs to the soundtrack for the indie film Unreel: A True Hollywood Story, written and produced by Ladies in Waiting playwright Michele Palermo. He also supplied the closing track for Peace, a short film starring That '70s Show's Kurtwood Smith. (Rocksnob warning: Like everyone else in LA, Corey Landis is a card-carrying actor, including a recurring role on the FOX sitcom That '70s Show as the young Red Forman.)
Meanwhile, Landis proselytizer Dan Bryk was quietly enabling the release of records by idiosyncratic Toronto singer songwriters like Chris Warren, The Bicycles and Chris Staig. Shocked to discover Landis about to internet-DIY his follow-up, Bryk intervened and Landis' first official album Feast of Scraps was co-released by the Urban Myth Recording Collective in 2003.
A singular paean to the emotional mean streets of El Lay, Feast sought to blow some dust and smoke in the right places, in the right amount. Landis' singular mix of melodramatic melodies, razorblade-gargling singing and homemade wall-of-Spector sounded to some "like the fictional soundtrack to a fictional paring of Stanley Kubrick and Sergio Leone… a spaghetti-O western." (Nimbus)
Critical consensus was that Landis was a songwriting force to be reckoned with:
"Great songwriters are few and far between; like troubadours of old, his dark, ironic lyrics work best against a minimal background of the lone piano or a single acoustic guitar. This is an artist who can dominate any small venue and who should be recording gems like this in a much better studio than his living room." (Skratch)
"**** 1/2 (out of five stars) Very real, somber, and humbling. If Bukowski could sing, he'd sound like this. A poet blessed with musical talent. The music is great. He sounds great. I'm afraid of him." (South of Mainstream)
"Darkly moody songs in a drunken manner. Excellent lyrics, interesting musicality, depth and soul… gritty and real. Great lyrics. I will buy him a drink." (Hybrid Magazine)
Which brings us to 14 Old Messages, Landis' ambitious second platter. Landis sings his black heart out over all sorts of memories, both real and imagined, in musical settings both familiar and disorienting. Landis' self-mocking, mock-solipsistic lyrics and nostalgia-tinged new melodist pop evokes both the alleged golden age of singer-songwriter pathos AND sad-sack contemporaries Oberst, Barzelay and Wainwright.
Opening with a musically twisted answering machine message and ending with a heartrending ballad, 14 Old Messages deftly swings between extremes of regret and quiet rebellion. It's telling that the album's emotional (and literal) centerpiece is "Old Friends", an astonishingly ambivalent generational kiss-off that unwittingly echoes old man (Loudon) Wainright's 1975 "Old Friend" then takes that sentiment to emotional extremes: "everyone grew up and old/and fat and tired and slow and cold/now they all live down on memory lane" before ultimately conceding that "all we have any more is the past."
Obsessively repulsed by that past, Landis writes as if discovering an old answering machine message from himself, only to discover that the "real world" they sold him as a kid never really existed, that the childhood heroes of all his favourite movies are suddenly the underdogs. (cf. "Where did it all go south/Who put those words in my mouth/How can we get clean/of the shit in which we're doused?" from State of the Union). If that sounds unbearably bitter, well fuck it, it probably is… but when wrapped in some of the sweetest, most melancholic pop of recent memory it makes for a compelling, hell, compulsively addicting listen. This is a guy whose idea of escape is asking his lover to put all her stuff in a shopping cart and go homeless with him ("We'll pick poison berries/and aluminum cans") and makes it sound not only winsome, but seductive.
One more stand-out track (amongst 14 songs, each with enough wry monologue for a screenplay) is Shine, which begins promisingly enough with Landis dancing in the moonlight, warbling "every step I take/begins to shine" over an dance floor of illuminated disco tiles ("like it's the Billie Jean video/and I'm Mike with his old nose") before crashing head-first into the ultimate casting-couch-walk-of-fame dystopia: "Lie down/I'm gonna step on you/Gonna make you mine."
Like Feast of Scraps, 14 Old Messages was obsessively overdubbed by Landis in his home studio, with Landis singing and playing each and every note (including trumpet, guitar, and piano). 14 Old Messages will hold your hair back as you vomit, commiserate as you cry, and laugh at you behind your back. While Corey Landis admittedly doesn't rewrite any rule books of pop songwriting, he clearly loves scribbling in the margins. And as 14 Old Messages' very first review concurs:
"This kid could become the next great singer/songwriter of our generation." (Smother)