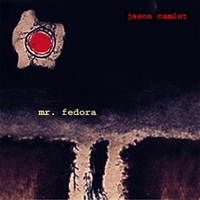 To put it simply,
these are a few of our favourite things. 
Jason is a Montreal songwriter and poet. His poetry collections include The Animal Library (2000), Attention All Typewriters (2005) and The Debaucher (2008).
Musically speaking, Camlot played drums in the SF punk outfit The Tuning Knives, led by Robert McNiell (thereafter of The Softs, and now of The Country Teasers). He has collaborated with superb finger-style player and songwriter Kenny Smilovitch for years in the folk noir duo Letterbomb. He also plays bass with the Montreal based Rawk Group Puggy Hammer as well as his 4-Track distortion-pop project JC SPED.
Back in the mid-1990s, while oscillating between San Francisco and Montreal, Jason released three amazing cassette albums in quick succession:
O Glee
(1994),
Mr. Fedora
(1995) and the aforementioned duo record 
Letterbomb
(1996).  
UM dude Dan Bryk was an intern at Canadian folk underground label and mail-order distro
Amatish Records
when the stark photocopy-on-cream-paper sleeve of O Glee caught his eye in a demo pile. When it didn't catch the ear of Amatish's fearless leader Bill Monahan, Bryk took it in the car and listened.
Over and over.
 This was amazing stuff. It took a while (every band didn't have a 
myspace page
 back then) but Bryk finally located a copy of Mr. Fedora. 
These were 
quiet
 records, released in the midst of nineties overproduction and grunge bombast. Camlot's intimate, opaquely confessional songs went completely unheralded. Recorded sparely, superficially "folk", yet filled with bravura fingerpicking, monstrous, angular hooks and intense wordplay that verges on incantation, where did Jason Camlot fit in? Eric Matthews was dabbling with orchestras. Elliot Smith was still playing grunge in Heatmiser. (Leonard Cohen? he was that old guy playing synth pop and dating that blonde twentysomething actress… you know, the guy Don Henley and Trisha Yearwood covered.)
Fortunately, Camlot's tapes traveled by word of mouth through the Canadian indie-rock underground over the following decade, to the point where they had been traded and burned enough times that we decided it was time to get them above-ground. We found Jason in Montreal at his job teaching Victorian literature at Concordia. Duly impressed by such punk-rock cred, we asked if we could re-release O Glee and Mr. Fedora. He obliged, pulling an amazing batch of full band and Letterbomb tracks out of a shoebox and fitting them in at the end of the original track lists. 
We tweaked the covers and pushed the project forward. We look forward to releasing two more collections of recorded but unmixed tracks, as well as a proposed album of brand new material.