The Urban Myth Recording Collective proudly welcomes Lee Feldman to the fold!
"Lee Feldman wants to take you back to those innocent days before critics applied the term "singer-songwriter" to any prefabricated pixie who tossed Babyface a few lyrics over sushi." – Salon.com
After months of heated negotiations (well, Lee kept asking "What the hell is a pop music collective anyway?") we are proud to announce the imminent release of I've Forgotten Everything, the stunning third album from the Broadminded Bard of Brooklyn (he'll probably hate that!) Lee Feldman.
Gorgeously produced by Edward Haber (who produced Linda Thompson's acclaimed return to recording Fashionably Late) and elegantly mixed by Jay Newland (most famous for engineering and mixing Norah Jones' albums with Arif Mardin) it features Lee and his band — Byron Isaacs on bass and Bill Dobrow on drums — with guest performances from amazing NYC musicians like Teddy Thompson, Steven Bernstein, Joel Frahm, Curtis Fowlkes, Johnny Spampinato, Pete Galub and UM fave Greta Gertler. This is rock-pop-jazz-folk ensemble playing of the highest order, in service of a songwriter at the peak of his compositional powers.
Lee's incomparable animated musical STARBOY (with animator Joe Campbell) won the Producer's Award at the 2004 Delaware Valley Film Festival, and was screened to a live performance at the Whitney this past year. Lee's widely acclaimed first two records Living It All Wrong (Pure/Mercury) and The Man In A Jupiter Hat (Bona Fide) are touchstones of the kind of cerebral, yet emotional pop music we would like to think we're making (and *cough* selling) here at UM, so just imagine how pleased we are to touch the hem of his garment. It's not everyday you get to work with An American Treasure. (Or as Greg Kot from The Chicago Tribune and NPR's Sound Opinions put it: "Chances are, his finely tuned records will continue to be discovered by discerning listeners years down the road." No hedge betting there!)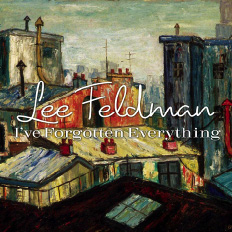 Lee is playing a CD release party with Byron and Bill at the Rockwood Music Hall, on 196 Allen (between Houston & Stanton) at 7:00 on March 23rd. Rockwood is an intimate place with a nice piano and a good sound system. Drop by and pick up a CD; the gig is FREE!
Lee has a website (imagine that!) with samples of the new record at www.leefeldman.com (and visit Lee's myspace page if you're into that sort of thing…)